Childhood Memory
This is the path traveling from my childhood home to my grandparent's house...literally Through the Wood to Grandmother's house we go! Now, it's such a sweet delight to see my girls trekking through the woods all on their own to visit Grandma.
So much green right now, although with a lack of rainfall, it's got a lot of yellow spots! Here's a field with and without texture...the 2nd shows a lot more of the green of the field.
And here's boy in green getting ready to be swallowed up in the green forest! His shirt perfectly matches the ferns, and they're nearly as tall as he is!
I went with the circle theme here...wagon wheels and hay bales.
No actual ripe fruit shown here, but it's the PROMISE of fruit to come!
We are looking forward to the bounty...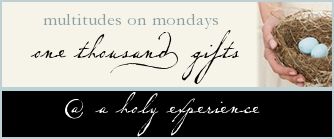 Share with me as we count the gifts of our Maker...
#341-
Beach days
Calling up friends at the last minute to play
Much needed connection with friends
Hauling laundry to my mom's to use her washing machine
Watching my kids splash and play in the frigid water
New washing machine
Clean clothes on the line
Ripening strawberries
Flowering berry bushes
Saturday night pizza
New library books
Used book sales
Visiting with grandma
Nana leading girls around on Sunny
Hunting for old barns
Spotting a new fawn at the edge of the woods
Getting up early for yard sales